Tom Walsh
Two-time Olympic medalist, winning back-to-back shot bronze medals at the Rio and Tokyo Olympic Games. His Oceania record of 22.90m stands sixth on the all-time world rankings.
I love using 2before before training and competitions. I previously used caffeine gum but feel like the caffeinated 2before version is more effective at getting me mentally and physically prepared for the session. The packets are easy to use particularly as I'm on the road a lot.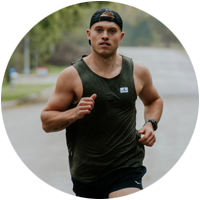 Jeremy Miller
Athlete, marathon runner and fitness coach based in Austin, TX.
"As an avid runner and athlete, I've tried countless endurance products with varying degrees of success. However, since discovering 2before, I can confidently say that this is one of the most effective products I've used for improving my running performance.
Not only does it provide a sustained energy boost throughout my runs, but it also tastes great. I've noticed a significant improvement in my overall endurance and performance since incorporating 2before into my routine.
One of the things I appreciate most about 2before is that it's made with high-quality ingredients and doesn't cause any negative side effects like jitters or crashes. It's clear that a lot of thought and care has gone into developing this product, and I would highly recommend it to any fellow runners looking to take their performance to the next level."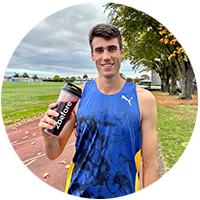 Hamish Kerr
New Zealand High Jumper. Gold medalist at the 2022 Commonwealth Games and bronze at the 2022 World Indoor Championships. Oceanian indoor record holder and New Zealand outdoor record holder.
Using 2before is a no-brainer in my opinion. Not only does the natural blackcurrant work as an effective pre-workout, but it also aids my recovery so that I can continue to train at a high-level session after session.
The option of non-caffeinated versus caffeinated is also ideal, as it provides me with more options to get that little bit more fired up, especially in competitions.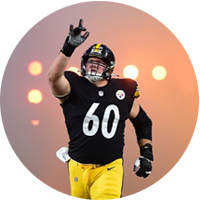 J.C Hasseanauer
New York Giants - Offensive Lineman
I have been taking this product since 2020. I have noticed significant improvement in my immunity, cardiovascular strain and mental focus. 2before has allowed me push myself harder on and off the field while aiding my body to recover faster. It has and will be part of my daily routine.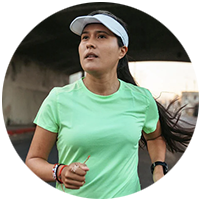 Jocelyn Rivas
115th Marathon Finisher, 100 Miler, 50 Miler
"I started to use 2before in September 2022 and it has been a game changer in my performance and my energy. I went from being a 4:12 marathoner to a 3:38 marathon.
I typically take 1 packet of Blackcurrant Pre-workout before my race and 1 during, which has helped me to push pace I never thought I could for such long distances. This year I'm going to attempt a Boston Marathon qualification and I know with 2before, it will become a reality. The energy it gives you is out of this world and the best thing about it, there's no jitters or GI issues. I would recommend this product to all long-distance runners."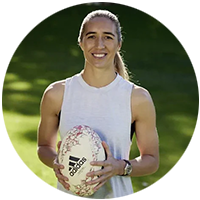 Sarah Hirini
Olympic Medallist, World Rugby Champion 7s and 15s
2before products are my go-to supplement before training and games and have the added benefit of starting the recovery process while I'm training. I love the blackcurrant powder as it tastes really good and is easy to drink, because it's a natural pre-workout it doesn't have the come down effect like other pre-workouts.